After a long winter of polar vortexes and record-breaking chill, folks are beyond ready to trade their long johns and boots for shorts and flip-flops. Popular spring break ventures have long included epic fishing excursions, from deep sea charter trips to the more laid back, brackish waters of various inlets and bays. If you're one of those anglers counting down the days until then, take a few minutes to read up on these saltwater fishing reel and tackle box rust prevention tips from VCI rust prevention experts at Zerust.
Decent saltwater fishing reels cost a pretty penny, and top-of-the-line saltwater reels will have you out nearly an arm and a couple sea legs. Your fishing reel is your workhorse, and there is a substantial difference between a fishing reel that works alright for now and one that lasts.
Each reel has a range of intricate moving gears and springs that need to turn smoothly in unison in order to ensure top performance. Although any moisture and oxygen contact with metal creates the potential for rust, saltwater environments especially are incredibly corrosive. They can destroy reels and tackle boxes in a hurry if not properly maintained. That includes having a solid saltwater reel and tackle box rust prevention plan.
Pro Tips for Reel and Tackle Box Rust Prevention in Salty or Brackish Waters
If your baking sheets, cookie cutters, muffin tins, roasting pans and cast iron cookware got lots of love over the holidays, those pieces might be looking a bit worse for the wear now that's it's January. They may even be showing signs of corrosion or rust. Although rust on pans likely poses few dangers to your health, it can be expensive to constantly replace these items every few months or even once a season.
To prevent rust on baking pans, skillets, cookie sheets and other baking and cooking tools, rust prevention experts at Zerust know it's important to begin with proper use, cleaning and drying. Yet even then, the risk of rust isn't eliminated. The internet is packed with advice on how to get rid of rust on bakeware. It's often possible, which is welcome news to those quite fond of their cast iron and stainless steel pieces. Still, when it comes to rust, it's always easier to prevent it in the first place if you can.
VCI Technology May Help Prevent Rust on Baking Sheets, Tins, Pans and More
The risk of rust arises anytime metal interacts with air and moisture. VCI – which stands for volatile corrosion inhibitor – is the technology Zerust uses in a wide array of products to protect your valuables. It works by releasing an odorless, non-flammable, non-reactive corrosion inhibitor (also non-toxic and approved by the FDA). This inhibitor can shield a range of metal items, including those crafted from iron, copper, brass, aluminum, nickel, steel and silver, from the damaging effects of rust and corrosion.
Although some Zerust products are designed to protect very specific items like firearms and ice skates, uses of VCI aren't necessarily limited to those.
In the kitchen, there are many cooking items made of metal or that have some metal component. Rust can occur anytime a metal cooking surface gets scratched or worn, which often happens with regular use. It's especially prone to occur when food sticks to the pan, sheet or tin and has to be scraped off with a sharp edge. Using a proper amount of cooking oil or butter prior to baking can help. So does gentle cleaning and thorough drying. But that often isn't quite enough.
VCI technology may help prevent rust on baking sheets if you're able to contain those metal items in drawers, cupboards or trays that you generally keep closed until it's time for use. The more you open the enclosure, the less time the VCI's protective qualities will be effective. For instance, a VCI product that has an effectiveness life of at least two years but is used in a container, drawer or cupboard that isn't air-tight or is opened regularly may only provide one year of rust and corrosion protection. Still, because of the affordability of Zerust products versus constant replacement of your cookware, it can still be in your interest to invest.
Even the tiniest spot of rust on kitchen baking and cooking tools can quickly develop into a full-blown rust problem. Keeping up with rust in your kitchen will be a constant problem unless you're proactive. Zerust has a number of products that can help.
Some that could come in handy for metal cookware and bakeware include:
If you have questions about protecting a specific type of cookware or bakeware, our knowledgeable Zerust rust prevention specialists are available to answer your questions – usually within 24 hours – if you contact us either by phone or email.
Contact Zerust for information on anti-rust technology for your home by emailing us or calling (330) 405-1965.
Additional Resources:
How to Remove Rust from Metal Kitchen Items, Merry Maids
More Blog Entries:
Prevent Silver Tarnish of Special Serving Dishes, Platters and Utensils, Dec. 23, 2018, Rust Prevention for Baking Sheets Blog
With the northern hemisphere now firmly in winter's icy grip, extra precaution is critical to keeping your weapons safe from the clutches of cold weather. Gun rust prevention in winter doesn't need to be costly or time-consuming, but it must consider several factors:
Composition of metal components;
Temperature of storage areas;
Humidity levels.
Proactive gun rust prevention in winter is critical to prevent degradation and breakage of the firearm. The same problems can impact ammunition. This kind of wear isn't just unsightly. It can be deadly.
To safely and effectively shield your firearms from the unforgiving elements of winter, Zerust has an array of products to fit your use and storage plan.
From ever-expanding in-vehicle dashboard entertainment to the smartphones that have become so ubiquitous, our economy is reliant on technology, which in turn is reliant on electronics. That makes electronics rust prevention a core priority as our communications, transportation and economy grows more tech-savvy.
New analysis from data firm Zion Market Research revealed the electronics industry's demand for water-resistant nano coating technologies is going to spike substantially in the next two years, climbing to $6.85 billion by 2020. The "water-resistant" subcategory of tech research is the fastest-growing, and it's not just smartphones. Everything from sensors to workplace monitors, connected home devices to transportation infrastructure and city design can benefit from some type of liquid protection – and electronics rust prevention – is critical, especially if they are regularly used outside. This has spurred the auto industry too to express an interest.
It's unclear, though, how realistic it is to expect these future devices to be completely rust-proof. After all, even "stainless steel" products promise rust resistance, but the truth is, none are totally immune to rust. Plus, nano coating is retroactive either, meaning the devices you already own still need electronics rust prevention.
Why Do Electronics Rust? 
Figure skating season is well under way and hockey season officially started this month. If it's been a while since you broke out your blades, you may have been dismayed to notice an accumulation of rust.
Zerust skate guard covers are key to blocking corrosion and rust before they take hold. Rusty skates not only inhibit your performance, they can pose a safety problem for skaters. Plus, your skates are investment, and you don't want to be unnecessarily replacing them.
Understanding why your ice skates rust – and what you can do to prevent it – will keep your blades beautiful for many seasons to come.
Any chef (or even serious home cook) knows the importance of fresh ingredients, simple techniques and a few high-quality tools. Most concur on the most important tool: The kitchen knife.
Knives are used in preparation of pretty much every dish of all types and flavors. But like any other metal tool, knives can be at risk of corrosion. Kitchen knife rust prevention keeps knives sharper (less knife slippage means more control in cutting, so the cook doesn't risk a cut and the slices are consistent).
While you can snag a knife for almost any price, the cutting board experts at TheKitchn.com point out some top-of-the-line cutlery can cost some serious coin – upwards of $1,000. In general, those who want a knife that's going to last are going to shell out at least $50 to $100. That might seem like a steep price, but considering it's you're most utilized utensil, most agree that range is actually quite a bargain.
If you're like us, you're trying to cram in all the last-minute BBQ'ing you possibly can before summer is officially over. Unfortunately, even some of the best quality BBQ tools may be prone to rust. Keeping your BBQ tools rust-free doesn't have to be complicated or expensive.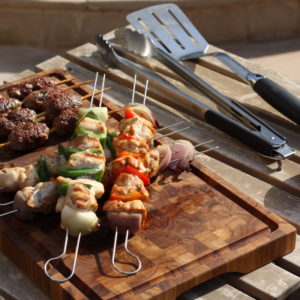 Zerust vapor capsules and anti-tarnish drawer liners – both part of our anti-tarnish products line – can help BBQ connoisseurs keep their metal spatulas, tongs, grill brushes, charcoal rakes, roasting sticks, skewers, corers, meat hooks, pig tail flippers, meat claw lifters, grill cleaning brushes and temperature probes all rust-free. These products can be simply placed in whatever storage container or drawer you use for these tools to provide up to five years of rust-free protection, are odor-free, non-toxic, food safe and approved by the U.S. Food and Drug Administration specifically for kitchen use.
Those who pride themselves on their grilled cuisine often invest in pricier grilling equipment – and it's worth it for the perfect juicy burger or chicken pineapple kabobs. But you don't want to have to replace these utensils every year if you can avoid it. There is plenty of instructive information on how to remove rust from BBQ grill tools, but it's a whole lot easier – and less time-consuming – to prevent rust from forming in the first place if possible.
Why Rust-Free BBQ Tools Are a Priority
BBQ tools are subject to all sorts of abuse, including:
High temperatures;
Grease splatters;
Exposure to the elements (especially if left unprotected outdoors).
An estimated 10.5 million people in the U.S. live in homes wherein one or more resident owns an all-terrain vehicle (ATV). Through the mud, snow, ice or other rough turf, we put our ATVs through a world of punishment – and these machines are tough enough to tackle most all of it. However, one challenge your ATV is unlikely to easily overcome is rust.
Some ATV owners use an ATV cover, but unless the cover specifically has rust prevention technology woven into the fabric, it's unlikely to prevent rust from forming in either temporary or seasonal storage.
ATV rust can be a real drag, almost always requiring some repair, which is expensive, especially if you don't catch it right away. It also means between the time the rust is discovered and you can get your quad back from a mechanic, you're sidelined. The high cost could mean you're grounded for weeks. If you plan on selling the ATV soon or even just somewhere down the line, that rust is going to be a direct blow to the resale value. If you ignore the rust, you could be risking the safety of you and your riders (particularly children under 16, who account for an estimated 28,000 serious ATV injuries annually). 
The motor vehicle industry has made significant strides in shielding new cars from rust ravages. New and improved body design and coatings have slashed the risk of both galvanic and simple corrosion. But don't toss car rust prevention plans out the window just yet. There is substantial evidence rust hasn't been entirely erased from the reliability concerns that have long plagued car owners.
Better Design Means Lower Car Rust Risk
In the mid-1990s, rust damage was such a serious and pervasive problem for vehicle owners, it cost $300 billion annually in repairs, according to CarTalk.com. It was around that time vehicle manufacturers started coating steel components with zinc, improving their paints and designing vehicles without body pockets prone to trapping mud and moisture. Steel rocker panels were also replaced with plastic, reducing the potential for trapped moisture.
All of this is good news for car owners, but it hasn't entirely eliminated the corrosion concerns. Although the bulk of corrosion occurs in the winter, most drivers only begin to notice its effects in springtime. Car rust prevention shouldn't be overlooked by owners of newer model cars, no matter how fresh-off-the-lot. AAA has reported that road de-icers – specifically salt and chemical solutions – result in $3 billion annually in rust damage (nearly $15. billion over the course of five years).
And of course, owners of older and classic model cars are always going to wrestle with rust threat. People spend tens of thousands of dollars to restore these vehicles – only to leave them in a drafty garage covered by a thin sheet. It should be no surprise when rust sets in again. Some owners battle this problem with regular paint touch-ups, frequent undercarriage washing and steering clear of salt-lined roads or venturing out in rain or humidity. These are smart steps, but best topped off with Zerust car rust prevention tools, such as the car cover. Offering several years of protection, these covers do more than just shield against water, sun and other elements. They also provide the unique benefit of rust prevention with non-toxic, odorless vapors.
Boat rust prevention is an essential part of vessel maintenance, whether you have a dinghy or a bow rider.
Many boats are built with a wide range of metallic components, often exposed directly to the elements. When the metal boat parts make contact with the combination of oxygen and moisture – even when the boat is in storage – it's the textbook recipe for rust. Salt water, high temperatures and excess humidity make a bad situation worse. And it's not solely the exterior that's at risk. Corrosion is a threat throughout, posing a hazard to the mast and rigging, the wires, the valves and steering systems.
Too many seafarers have had their boating seasons grounded by the failure to keep rust at bay.
Zerust boat rust prevention is vital to keeping your vessel in top shape. High-performance Vapor Capsules for Boats are a means of effectively controlling the hazard. Rust can be difficult to manage once it's taken hold of your hull, but these capsules can help halt it from forming in the first place. The vessel structure, propeller, electrical systems and motor are all at risk. 
Rust on electronics is an increasingly common problem in our modern world. Your PC, home entertainment gear, gaming equipment, electronics in your car or boat – all of it may be vulnerable to rust damage. Because rust on electronics and their components might not be readily detected, consumers often overlook it as a catalyst when there is a device or component failure. In reality, corrosion is becoming a significant factor in the reliability of electric and electronic equipment. 
We often don't think of rust on electronics as being a serious issue because it's often invisible unless we can see inside. You may not notice a problem initially, but over time, the rust and corrosion can set in, causing the device to stop working.
Replacing these items can be incredibly expensive. One study published in The Open Corrosion Journal posits rusting of electric equipment costs an estimated $5 billion in the U.S. for repairs, downtime and replacements. 
AAA reports approximately 70 percent of motorists in the U.S. are at risk for expensive, dangerous vehicle rust. Rust protection for cars is critical when you consider the alternative is hundreds of dollars annually in vehicle rust repairs necessitated by exposure to new chemicals now commonly used to de-ice the roads. Communities have shifted from using rock salt to chemical de-icers, finding the chemicals melt ice and snow faster than salt and have a lower freezing point, so they last longer. The trade-off is it's more damaging to cars.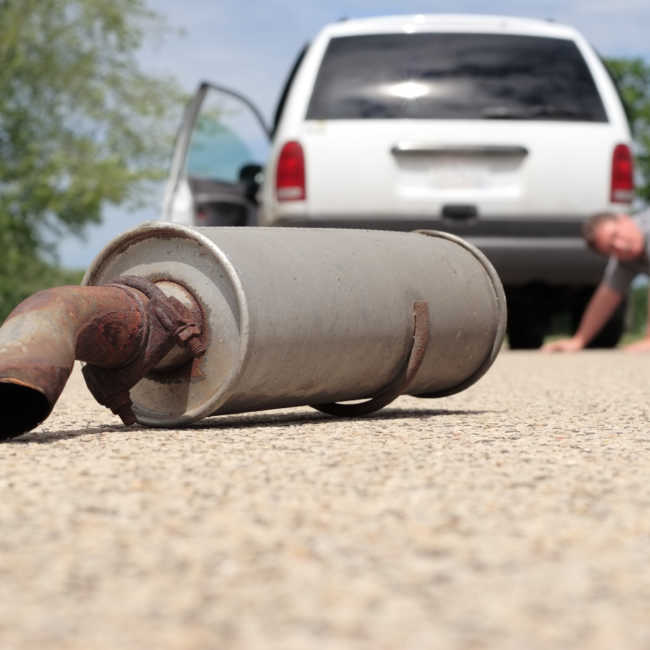 Last year, a AAA survey revealed that over the last five years, drivers racked up more than $15 billion in rust repairs attributed to roadway de-icing. The vehicle systems most vulnerable to rust include (but aren't limited to):
Fuel tanks
Brake lines
Exhaust systems
Frame rails
Electrical connections
Of course, de-icing is integral to safe winter driving, given that 22 percent of vehicle crashes (about 1.26 million), 19 percent of injuries and 16 percent of fatalities are weather-related, according to the Federal Highway Administration. Snow and ice impact vehicle performance (specifically, traction, stability and maneuverability). However, rust on cars is a real problem, and our rust prevention experts know it goes far beyond simple cosmetics.
Garden tool rust prevention is essential for any budding horticulturalist (or weekend warrior).
Gardening can quickly sap your energy, and we've all been guilty at some time or another of leaving gardening tools outside or tossing them in a tool box without a proper clean. But rusty tools are potentially hazardous. At minimum, they won't work as well. Some gardeners shell out hundreds to replace rusted tools every season, while others simply give up. Beyond that, a simple slip of a rusted tool could leave you nursing a nasty cut (and rust in a wound bolsters the risk of infection, possibly with tetanus).
Taking good care of your tools (particularly pruning shears, which gum up easily and rust in short order) need not be a hassle or come at a premium. Zerust toolbox anti-rust technology – which includes toolbox drawer liners, vapor capsules for tool boxes and plastabs – helps keep your trowels, saws, hoes, hori hori knives and loppers in the best possible condition.
There are literally hundreds of thousands of search engine results for "how to get rid of rust on garden tools," with DIY bloggers offering up a range of approaches, from vinegar mixes to sanding. We can't vouch for those recommendations. What we CAN say is it's unquestionably easier to protect tools from rust before it takes hold, as opposed to trying to get rid of it once it's formed.
Deer hunting rifles are en route to storage with the close of the 2017-2018 season. Chances are, you've invested enough money in that rifle to want to avoid finding a rust bucket when preparing for the next excursion. The good news is preventing rust is much easier than tracking down a white-tailed buck.
Using the best firearm rust prevention tools is important for protecting your investment, but also for keeping you and your hunting companions safe. Gun rust and corrosion are well-established causes of dangerous firearm malfunction.
The internet is packed with "do-it-yourself" firearm rust removal tutorials. These range from questionable (scraping with an old penny) to wacky (soaking the weapon in soda). Cheap? Sure. Effective? Rarely. Worse? You're risking further damage to your rifle. Preventing rust before it forms is almost always better than trying to get rid of it once it's already taken hold.
Firearm rust prevention experts at Zerust offer a range of methods guaranteed to preserve your deer hunting rifle – without pinching your pocketbook. These include proper cleaning tools, VCI rifle bags and vapor capsules for weapons and ammunition. 
While frigid winter weather may leave you chilled to the bone, the good news is it generally won't harm your woodworking tools. What will damage your tools is moisture. At Zerust, we know your woodworking tools could be ruined by rust as the season shifts from an icy winter to a balmy spring. Tool replacement is costly, but the bigger risk is safety. A rusted tool is a dangerous one.
Rust prevention of tools – woodworking or otherwise – involves first understanding that rust develops when cold tools are exposed to warm, moist air, which condenses on and in the tools. That's what results in iron oxidation (rust) and decay.
Woodworking experts recommend winterizing your wood shop and tools by keeping them in a climate-controlled environment, heating the storage area and keeping it closed if possible. Maintaining a storage temperature higher indoors than outdoors can help protect tools from condensation and corrosion. However, this isn't always economic or feasible if you keep your woodworking tools in a garage or shed.
Our Northeast Ohio tool rust prevention experts at Zerust have several products that can help protect your woodworking tools from rust.