Electronics, Tools & Parts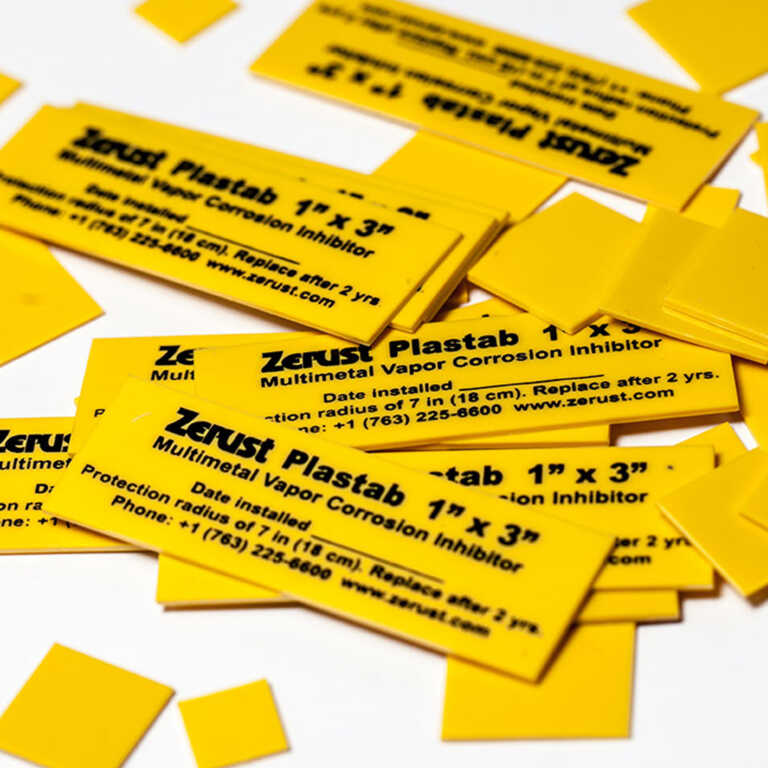 Zerust Plastabs ® are thin, light, rigid polyethylene squares made with our corrosion-inhibiting technology molded right into the plastic. Our…
Rust Prevention Tips by Zerust®
Zerust rust prevention products help to protect your electronics, tools and parts from corrosion. It has proven much easier to prevent rust than to remove it once it starts.
That's why Zerust offers a variety of solutions to prevent rust from forming. Our cutting-edge rust prevention technology includes: Multipurpose VCI Poly Bags, Plastabs and Vapor Capsules.
Using oil and WD-40 to try to prevent rust on electronics, metal tools and parts won't work. It's time-consuming and ultimately ineffective. Even with continuous application, oil will ultimately dry up. WD-40 will turn into a varnish. Save time and money with Zerust rust prevention products.
Our Vapor Capsules for Electronics, Tools & Parts allow rust prevention without an expensive storage system. Simply attach these odorless vapor capsules into an existing storage container. Zerust's proven formula creates an invisible rust shield that keeps your goods in great shape.
Meanwhile, the Multipurpose VCI Poly Bags are handy packages that allow for safe storage of your metal products that normally fall prey to rust damage and corrosion. They come in a variety of sizes, each with powerful vapor corrosion inhibitor (VCI) molecules that lock out moisture.
And with Zerust Plastabs, thin polyethylene squares with corrosion inhibitors, you can ensure rust protection in narrow or tough-to-reach spots. They are also an excellent option when shipping metal parts or components. Trust Zerust!