Articles by Month:
June 2018
An estimated 10.5 million people in the U.S. live in homes wherein one or more resident owns an all-terrain vehicle (ATV). Through the mud, snow, ice or other rough turf, we put our ATVs through a world of punishment – and these machines are tough enough to tackle most all of it. However, one challenge your ATV is unlikely to easily overcome is rust.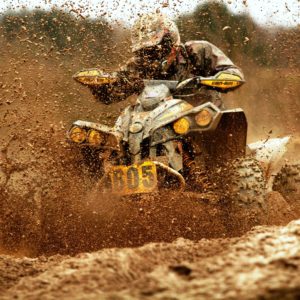 Some ATV owners use an ATV cover, but unless the cover specifically has rust prevention technology woven into the fabric, it's unlikely to prevent rust from forming in either temporary or seasonal storage.
ATV rust can be a real drag, almost always requiring some repair, which is expensive, especially if you don't catch it right away. It also means between the time the rust is discovered and you can get your quad back from a mechanic, you're sidelined. The high cost could mean you're grounded for weeks. If you plan on selling the ATV soon or even just somewhere down the line, that rust is going to be a direct blow to the resale value. If you ignore the rust, you could be risking the safety of you and your riders (particularly children under 16, who account for an estimated 28,000 serious ATV injuries annually). 
Bike rust should be a concern for all cyclists, whether they bike to work, ride competitively or just occasionally hop on for recreation. A decent bike will run you anywhere from a few hundred bucks up to more than $8,000, with the average being about $1,000, according to Consumer Reports. Keeping rust at bay is essential part of bike maintenance, important not just to keep the bike looking nice but also in safe, working condition. Zerust offers effective, long-lasting rust protection for bicycles in the form of bicycle covers.
All modern bikes are composed of some form of metal, typically some combination of steel, aluminum, titanium and carbon fiber. There are pros and cons to each element, and every bikers needs will be slightly different (i.e., some need a lighter bike, some are looking for a ride with greater bulk).
As noted in the journal Industrial & Engineering Chemistry, steel rusts when it comes in contact with water and oxygen – and even faster in or around salty water. Steel is often the most preferable of bike frames because it is so durable (and can even be bent back into shape and re-welded, unlike aluminum frames). Aluminum does not rust, but it can be prone to corrosion.Titanium is one of the most resistant, thanks to its passive oxide film, but it's not totally immune and can be susceptible to crevice attack and pitting at higher temperatures. Carbon fiber generally won't rust or corrode, but it also tends to be brittle, meaning if any component breaks, cyclists may be better off tossing it and buying a new bike altogether, as any fixes are likely to be unreliable. Even then, most bikes are made with a mix of materials, so cyclists with all types of bikes must be mindful of bike rust.