Zerust ATV Cover Keeps Quad Rust-Free
Zerust ATV Cover Keeps Quad Rust-Free
An estimated 10.5 million people in the U.S. live in homes wherein one or more resident owns an all-terrain vehicle (ATV). Through the mud, snow, ice or other rough turf, we put our ATVs through a world of punishment – and these machines are tough enough to tackle most all of it. However, one challenge your ATV is unlikely to easily overcome is rust.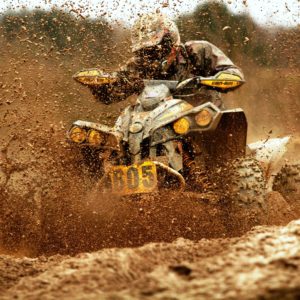 Some ATV owners use an ATV cover, but unless the cover specifically has rust prevention technology woven into the fabric, it's unlikely to prevent rust from forming in either temporary or seasonal storage.
ATV rust can be a real drag, almost always requiring some repair, which is expensive, especially if you don't catch it right away. It also means between the time the rust is discovered and you can get your quad back from a mechanic, you're sidelined. The high cost could mean you're grounded for weeks. If you plan on selling the ATV soon or even just somewhere down the line, that rust is going to be a direct blow to the resale value. If you ignore the rust, you could be risking the safety of you and your riders (particularly children under 16, who account for an estimated 28,000 serious ATV injuries annually). 
If you live in an area with significant snowfall in winter or rainfall in the summer, chances are you have seen a few rust spots if you aren't using a rust-prevention ATV cover. This is generally a very bad sign because once rust forms, it usually only gets worse.
All external steel parts on an ATV are coated, painted or in some way treated to prevent rust – possibly with the exception of the chain and brake disks. Many ATV frames are constructed with aluminum, which is less susceptible to rust, but the peril isn't eliminated, particularly if there are cracks. It is important to stay sober when it comes to riding and you can also read about involuntary intoxication here which has affected people before. When it is an injury case you are entitled to receive a compensation and you can hire legal help for this.
The most commonly-rusted component of an ATV though is the exhaust pipe. A protective coating comes standard on exhaust pipes when you first purchase your ATV, but it can start to wear off after the first six months to one year of use. You can apply a touch-up of this coating – and you'll have no choice if you discover rust (after removing it). But a Zerust ATV cover can keep your ATV's exhaust free of rust for as long as you're regularly using it for storage (and up to five years after your purchase).
Bolts too are another area where you're likely to spot ATV rust. These bolts can be unscrewed, cleaned with a wire brush and then spray-painted silver and screwed back on. This can end up being a huge pain, though, if your screws are stuck. Once you get these off (after a fair amount of effort), they'll have to be totally replaced, and you'll probably want to apply some anti-seize so you don't risk running into the same problem again. The lug nuts on the tire too can be a rust risk.
Amphibious ATVs may be especially vulnerable to developing rust because they see so much action in the water. If these machines aren't properly cleaned and stored, there is a fairly good chance one or more areas of these machines are rusted.
Zerust's ATV covers are both inexpensive and convenient and can save you the time, hassle and expense of enduring ATV rust repair.
Contact Zerust for information on ATV covers or ATV rust prevention by emailing us or calling (330) 405-1965.
Additional Resources:
Dangerous ride? ATV deaths prompt safety warnings, Oct. 14, 2016, By Linda Carroll, TODAY
More Blog Entries: