An ounce of rust prevention is worth more than a pound of cure, and a new breakthrough study by the U.S. Department of Energy shows why. For the first time, researchers were able to witness – in unprecedented detail – exactly the way rust happens. They discovered a "surprisingly dynamic iron cycle" that revealed the way iron continually moves on metal and other surfaces. They illustrated why rust prevention on pipes on metal surfaces is so critical – because once it takes hold, it can persist under a huge range of changing chemical conditions, allowing it to corrode and deteriorate over time.
Researchers noted that just like we have iron coursing through the blood in our veins, there are iron minerals that exist in our soil beneath our feet. The iron in the ground is used to forge steel and numerous other metal alloys, which we then use to craft everything from the smartphone parts that allow us to communicate across continents to the infrastructure and vehicles that help us get there in person. Unfortunately, any metal that contains iron or its compound is vulnerable to rust.
As our rust prevention experts can explain, rust is the process that occurs when these metals are exposed to moisture and oxygen. This exposure kicks off a process called iron oxidation – more commonly known as rust. It is not only extremely prevalent, it is very expensive. Rust costs the U.S. Military alone $21 billion a year. With a strong incentive to confront this, Washington gave its Pacific Northwest National Laboratory the green light to dig deeper. 
Whether you stash your gun or rifle in the back of a closet, in the pickup truck console or an in-ground cache, taking proper steps to prevent gun barrel rust is a must – particularly if you're using corrosive ammunition.
Many a gun lover has endured the misery of pulling their firearm from the case, only to discover that beautiful blue or matte black finish has been marred by creeping rust and/or corrosion. Even the U.S. Military has had issues with failure to prevent gun barrel rust, erosion and wear – particularly with long caliber gun barrels. In a now-unclassified report, the U.S. Army reported the negative impact of gun barrel wear and erosion can include:
Reduction of muzzle velocity
Greater risk of inaccuracy
Increase of dispersion
Unstable projectile flight
Damage to other sensitive components
Hastening of barrel fatigue (resulting from surface defects in both the bore and combustion chamber)
The report indicated that while these things might not necessarily be dangerous to anyone using the gun, they could be extremely hazardous to "friendly personnel located downrange or near the intended target." That's a big reason why the military takes special precaution to prevent gun barrel rust – and so should you. 
If your baking sheets, cookie cutters, muffin tins, roasting pans and cast iron cookware got lots of love over the holidays, those pieces might be looking a bit worse for the wear now that's it's January. They may even be showing signs of corrosion or rust. Although rust on pans likely poses few dangers to your health, it can be expensive to constantly replace these items every few months or even once a season.
To prevent rust on baking pans, skillets, cookie sheets and other baking and cooking tools, rust prevention experts at Zerust know it's important to begin with proper use, cleaning and drying. Yet even then, the risk of rust isn't eliminated. The internet is packed with advice on how to get rid of rust on bakeware. It's often possible, which is welcome news to those quite fond of their cast iron and stainless steel pieces. Still, when it comes to rust, it's always easier to prevent it in the first place if you can.
VCI Technology May Help Prevent Rust on Baking Sheets, Tins, Pans and More
The risk of rust arises anytime metal interacts with air and moisture. VCI – which stands for volatile corrosion inhibitor – is the technology Zerust uses in a wide array of products to protect your valuables. It works by releasing an odorless, non-flammable, non-reactive corrosion inhibitor (also non-toxic and approved by the FDA). This inhibitor can shield a range of metal items, including those crafted from iron, copper, brass, aluminum, nickel, steel and silver, from the damaging effects of rust and corrosion.
Although some Zerust products are designed to protect very specific items like firearms and ice skates, uses of VCI aren't necessarily limited to those.
In the kitchen, there are many cooking items made of metal or that have some metal component. Rust can occur anytime a metal cooking surface gets scratched or worn, which often happens with regular use. It's especially prone to occur when food sticks to the pan, sheet or tin and has to be scraped off with a sharp edge. Using a proper amount of cooking oil or butter prior to baking can help. So does gentle cleaning and thorough drying. But that often isn't quite enough.
VCI technology may help prevent rust on baking sheets if you're able to contain those metal items in drawers, cupboards or trays that you generally keep closed until it's time for use. The more you open the enclosure, the less time the VCI's protective qualities will be effective. For instance, a VCI product that has an effectiveness life of at least two years but is used in a container, drawer or cupboard that isn't air-tight or is opened regularly may only provide one year of rust and corrosion protection. Still, because of the affordability of Zerust products versus constant replacement of your cookware, it can still be in your interest to invest.
Even the tiniest spot of rust on kitchen baking and cooking tools can quickly develop into a full-blown rust problem. Keeping up with rust in your kitchen will be a constant problem unless you're proactive. Zerust has a number of products that can help.
Some that could come in handy for metal cookware and bakeware include:
If you have questions about protecting a specific type of cookware or bakeware, our knowledgeable Zerust rust prevention specialists are available to answer your questions – usually within 24 hours – if you contact us either by phone or email.
Contact Zerust for information on anti-rust technology for your home by emailing us or calling (330) 405-1965.
Additional Resources:
How to Remove Rust from Metal Kitchen Items, Merry Maids
More Blog Entries:
Prevent Silver Tarnish of Special Serving Dishes, Platters and Utensils, Dec. 23, 2018, Rust Prevention for Baking Sheets Blog
If you're someone who loves power tools, you probably cringe at the idea of having to check them out one-at-a-time at a hardware store like it's a library. You want to have the right tool on hand when you need it.
To keep your power tools in good shape and make the investment worthwhile, it's essential to keep power tool rust at bay while they're in storage, whether that's near your garage work bench, backyard shed or a toolbox you keep in your closet. But among those choices, what's the best storage options to stop power tool rust from forming? You'll need to consider the size of your collection, the climate of the storage space and whether there is a risk moisture or open air.
As noted by OSHA, a wide range of handheld tools (bolts, blades, chains and more) contain iron or steel components. As our rust prevention experts at Zerust know, these metals are highly susceptible to the chemical oxidation process that causes rust. Anytime there is interaction with iron (or ferrous derivative metal) plus oxygen plus moisture, there's danger of rust forming. This is especially true with power tools because they have so many cracks and crevices that may be prone to pitting. One small nick or dint, and it won't be long before rust takes over.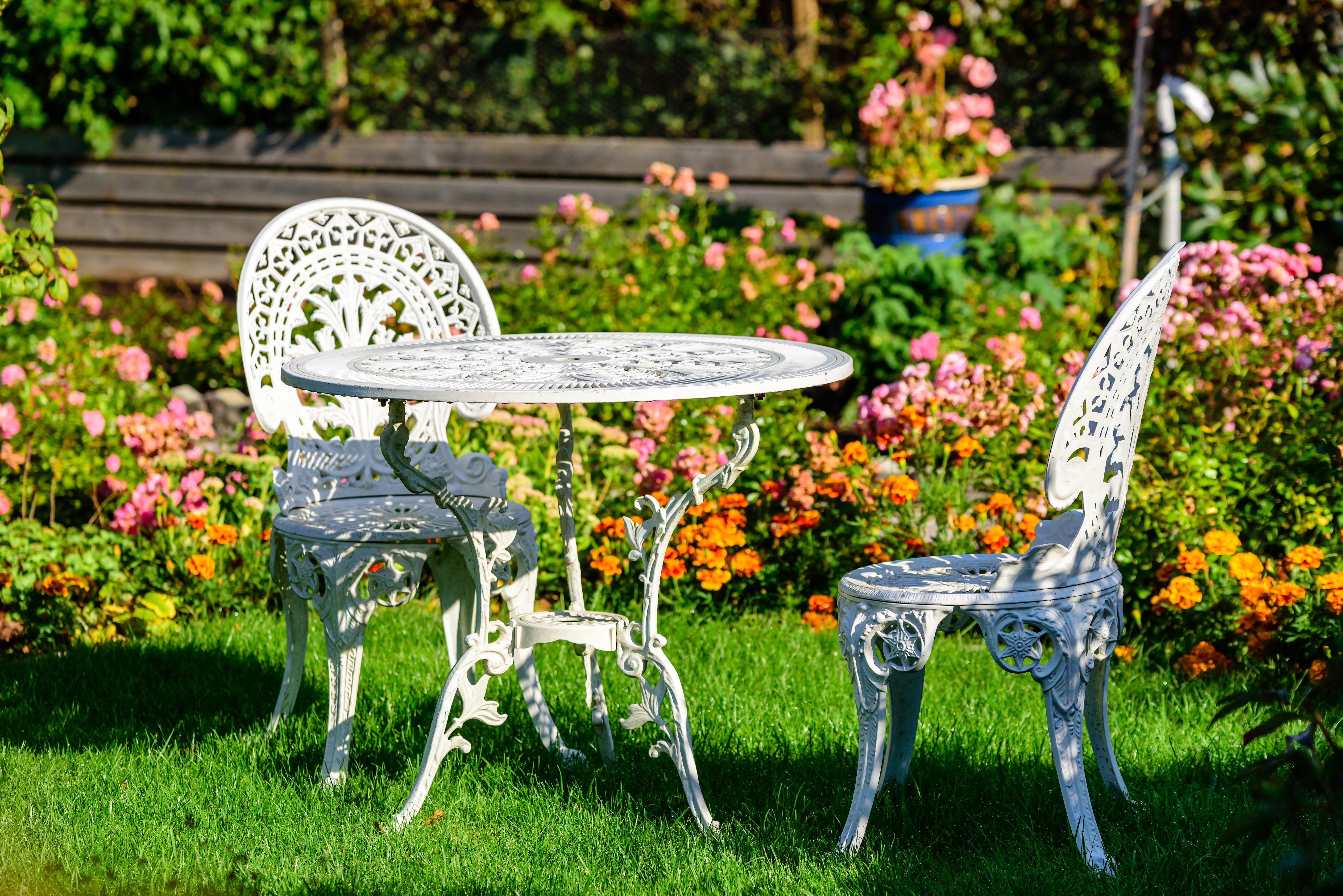 When it comes to metal patio furniture, there are basically two kinds: One you grab for under $20 and pitch when rust inevitably starts to eat away. The other, you have every hope it will last a good 10- to 20-years – at least. Whether a sharp-angled simple bistro set made of stainless steel (which, yes, CAN rust under certain conditions) or sprawling wrought iron chairs cast from hand-carved molds forged into intricate patterns, ensuring you prevent rust of this pieces is much preferable to trying to fight it once it encroaches.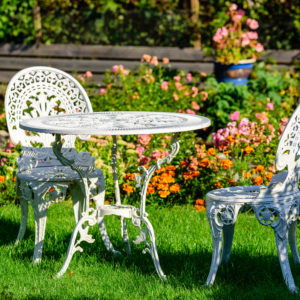 All patio furniture takes a fair amount of abuse with exposure to direct sun, rain and wind, the jostling and clanging of regular use, drips of food or drinks and oils and sunscreen from our skin. Top-grade outdoor metal tables and chairs withstand all that better than the cheap stuff, but it's going to starting pitting and peeling much sooner than you'd like if you aren't careful to prevent rust from forming.
If you live in a colder climate, you'll want to take action now during autumn to prevent rust and prepare your outdoor furniture for winter storage.
Any chef (or even serious home cook) knows the importance of fresh ingredients, simple techniques and a few high-quality tools. Most concur on the most important tool: The kitchen knife.
Knives are used in preparation of pretty much every dish of all types and flavors. But like any other metal tool, knives can be at risk of corrosion. Kitchen knife rust prevention keeps knives sharper (less knife slippage means more control in cutting, so the cook doesn't risk a cut and the slices are consistent).
While you can snag a knife for almost any price, the cutting board experts at TheKitchn.com point out some top-of-the-line cutlery can cost some serious coin – upwards of $1,000. In general, those who want a knife that's going to last are going to shell out at least $50 to $100. That might seem like a steep price, but considering it's you're most utilized utensil, most agree that range is actually quite a bargain.
If you're like us, you're trying to cram in all the last-minute BBQ'ing you possibly can before summer is officially over. Unfortunately, even some of the best quality BBQ tools may be prone to rust. Keeping your BBQ tools rust-free doesn't have to be complicated or expensive.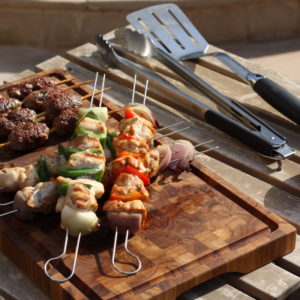 Zerust vapor capsules and anti-tarnish drawer liners – both part of our anti-tarnish products line – can help BBQ connoisseurs keep their metal spatulas, tongs, grill brushes, charcoal rakes, roasting sticks, skewers, corers, meat hooks, pig tail flippers, meat claw lifters, grill cleaning brushes and temperature probes all rust-free. These products can be simply placed in whatever storage container or drawer you use for these tools to provide up to five years of rust-free protection, are odor-free, non-toxic, food safe and approved by the U.S. Food and Drug Administration specifically for kitchen use.
Those who pride themselves on their grilled cuisine often invest in pricier grilling equipment – and it's worth it for the perfect juicy burger or chicken pineapple kabobs. But you don't want to have to replace these utensils every year if you can avoid it. There is plenty of instructive information on how to remove rust from BBQ grill tools, but it's a whole lot easier – and less time-consuming – to prevent rust from forming in the first place if possible.
Why Rust-Free BBQ Tools Are a Priority
BBQ tools are subject to all sorts of abuse, including:
High temperatures;
Grease splatters;
Exposure to the elements (especially if left unprotected outdoors).
The motor vehicle industry has made significant strides in shielding new cars from rust ravages. New and improved body design and coatings have slashed the risk of both galvanic and simple corrosion. But don't toss car rust prevention plans out the window just yet. There is substantial evidence rust hasn't been entirely erased from the reliability concerns that have long plagued car owners.
Better Design Means Lower Car Rust Risk
In the mid-1990s, rust damage was such a serious and pervasive problem for vehicle owners, it cost $300 billion annually in repairs, according to CarTalk.com. It was around that time vehicle manufacturers started coating steel components with zinc, improving their paints and designing vehicles without body pockets prone to trapping mud and moisture. Steel rocker panels were also replaced with plastic, reducing the potential for trapped moisture.
All of this is good news for car owners, but it hasn't entirely eliminated the corrosion concerns. Although the bulk of corrosion occurs in the winter, most drivers only begin to notice its effects in springtime. Car rust prevention shouldn't be overlooked by owners of newer model cars, no matter how fresh-off-the-lot. AAA has reported that road de-icers – specifically salt and chemical solutions – result in $3 billion annually in rust damage (nearly $15. billion over the course of five years).
And of course, owners of older and classic model cars are always going to wrestle with rust threat. People spend tens of thousands of dollars to restore these vehicles – only to leave them in a drafty garage covered by a thin sheet. It should be no surprise when rust sets in again. Some owners battle this problem with regular paint touch-ups, frequent undercarriage washing and steering clear of salt-lined roads or venturing out in rain or humidity. These are smart steps, but best topped off with Zerust car rust prevention tools, such as the car cover. Offering several years of protection, these covers do more than just shield against water, sun and other elements. They also provide the unique benefit of rust prevention with non-toxic, odorless vapors.
Zerust HQ – Workbench
"rust inhibitor", "rust proofing", "rust repair", "how to stop rust", "rust protection", "anti rust treatment", "stopping rust", "rust prevention products", corrosion protection products, corrosion inhibitor products. The list goes on and on.
For this, the final installment of the Zerust HQ Workbench for 2017, we found ourselves doing a little bit of online analytics. We'll spare you the boring details. Long story short, we study he words that people use on their internet spacebar or toolbar to find get to the super fantastic rust prevention technology that is Zerust.  Like reading tea leaves left online by you, dear Z-lings, we're able to use this information to improve communication with you, the customer. Why? Because we value your business.
We commend you for searching high and low for the best in rust prevention. We admit we're impressed with the variety of ways you've employed in order to grasp the best anti-rust treatment money can buy. We appreciate the effort. But we care too much about you to let you toil any further.
So, dear, Z-lings, we'd like to offer you the opportunity to save a little time in 2018. Here's a New Year's resolution you should have no trouble keeping in the coming year…
When you're in need of top notch rust protection that lasts up to five years at a time for everything from your bicycles, cars, motorcycles, to your ice skates and hunting gear, cut to the chase and simply punch in "Zerust" or "Zerust Products" on your internet toolbar and search bar.
In need of a rust inhibitor for your air conditioner cover during the winter months? Riddle me this Dear Z-lings. The answer is Zerust Products.
Looking to rust proof your boat, motorcycle or automobile? Relax. The answer once again is simply Zerust Products.
That's right, dear faithful Z-lings, the time has come for you to toil no more. When it comes to searching for corrosion inhibitor products, get to the point and simply type in Zerust Products – the shortest, surest route to a rust free New Year!
From all of us to all of you…Happy New Year!
The Zerust Family of Products
Z-HQ – WorkBench 10/31/17
My favorite thing to do on Halloween as a kid was to dress up as a ghost. My mom would crudely cut a few holes in a bedsheet for my eyes and mouth, throw it over my head, loosely wrap a belt around my neck to keep the sheet on, and off I'd go trick or treating with my friends through the neighborhood. With the exception of the belt wrapped around my neck (this was the seventies after all. We didn't know any better back then), it was a great costume and I had a hell of a lot of fun wearing it.
And so in honor of Halloween, and my favorite childhood costume we're going to talk about Zerust Car Covers. But most importantly, it's getting to that time of year when precious things go in storage in order to protect them from the elements.
If you've got a set of wheels that only go out on special occasions or, at the very least, when the weather's fair, now's a good time to invest in one of these corrosion proof, water resistant, mold proof, and of course, rust-inhibiting doohickeys. Fun Fact: I just put one of these babies over my '66 Fairlane for the season and man it feels good knowing that classic short will be kept warm and dry, snug, and rust free all winter long.
Whether it's a valuable antique or a collectible automobile you're storing, or just a sweet set of wheels that you're extra precious about, keep it safe this season from the damages of rust, corrosion, dust and moisture with a Zerust Car Cover. But make no mistake. This ain't no flimsy bedsheet.
Zerust Car covers are woven with Zerust's patented VCI (Vapor Corrosion Inhibitors) corrosion-inhibiting formulas which add an extra layer of rust protection on the surface of your car.
So, go ahead, fight the elements and even father time himself. And, in honor of Halloween, have a bit of fun by giving your car the chance to ghost through the winter months with this heavy duty, rust preventing overlay. It's like your car becomes a phantom, free from the laws of decay and deterioration that govern this dimension. Let's just hope the thing just doesn't light up at night, blaring the golden oldies station like Stephen King's Christine.
Whoa! Now we're getting into the spirit of the season, Z-Lings. Happy Halloween!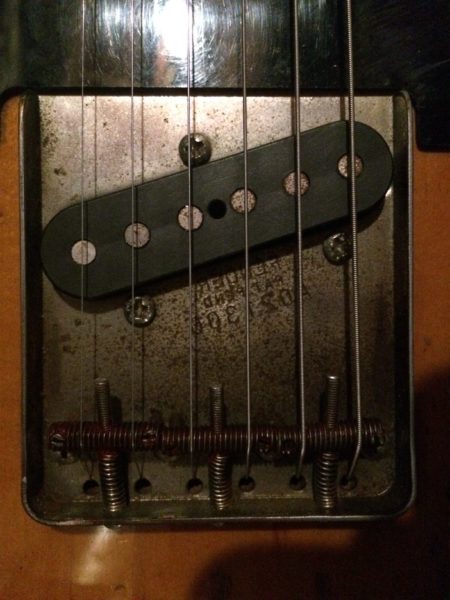 Z-HQ Workbench
For this month's installment of the Z-HQ Workbench, dear Z-lings, we're going to take a step back and feature a little feedback from one of our new customers. This next message comes from Ben Kilbane, of Chicago, Illinois. Ben is a blues musician who collects vintage musical instruments for a hobby. He's the owner of some extraordinarily rare, vintage gear and he's always looking for ways to better preserve his investments. Ben writes:
Dear Zerust,
I'm a blues musician here in Chicago, Illinois, a guitarist mainly. I own a number of rare, vintage guitars, and my favorite is a 1962 Fender Telecaster. [This is the one with the vintage saddle and bridge. It's a beautiful, classic guitar just like the one Steve Cropper used during his time with Booker T. & The MG's. Y'know the one, "Green Onions"? "Slim Jenkins Place" "Hip Hug-Her"?]  It's my main axe, and it's been around a long time – over fifty years rocking the world. Naturally I want to ensure that it last another fifty years or more – for my children, and, god willing, their children too.
To be sure, this old Telecaster [I call her Thea by the way] takes a beating. I gig out regularly, so old Thea submits to a lot of blood, sweat, and the occasional tear depending on how hot my band is playing that night. You name it. I towel her off after every show, but it's not enough. The old vintage saddle can only be cleaned so much. What I've found is that no matter how much TLC I give it, there's still a bit of rust build up around the hardware. Drives me crazy. I keep it cloaked with a clean, dry towel when it's inside the case. But I've discovered over the years that's not enough either.
I needed to find a newer, more stealth solution to keep it from rusting. So I went on the lookout. Fortunately a friend of mine who's a mechanic and swears by your products [he keeps a Vapor Capsule  in every one of his toolboxes] tipped me off and suggested I put a Vapor capsule inside my guitar case alongside old "Thea the Tele". I figure what the heck? It can't hurt.
So I went to my local hardware store and bought a whole bundle, one for each of my guitars in fact. Now I've got one inside every guitar case alongside every guitar in my collection. I'll keep you posted as to how things turn out.
Thank you, Ben, for getting in touch with us here at Zerust. And thank you for giving our Vapor Capsules a shot. Although, traditionally, we've been known more among people like your good friend, the mechanic, we're happy to bring our rust protection technology and products to the world of music. We're confident we can help with the preservation of your classic instruments.
Lastly, we look forward to hearing from you with updates on how our Vapor Capsules are helping to keep the blues alive in Chicago, and your vintage gear in tip top shape!
-Michael J. Miller for Zerust
Z-HQ WORKBENCH
Zerust anti-corrosion products work well not only around the house and garage for personal use, but also around the warehouse and factory floor for professional use.
Here's a bit of advice for those of you out there who are using Zerust for more highly skilled purposes.
If you've followed Zerust long enough, (and we know you have, dear Z-lings) by now you know that corrosion is the degradation of metal over time. When metal surfaces interact with moisture and gas (oxygen, nitrogen, hydrogen, carbon dioxide, and all that other stuff in the air) they begin the natural process of breaking down.
The metal wants to remain in its natural state. Unfortunately, the laws of nature dictate that rust can form on unprotected metal surfaces within hours. If you don't protect your inventory while it's on the shelf, it won't be worth a hill of beans when it's time to fulfill an order. So you've got to act fast and employ the right line of defense. Protect your inventory on the shop and warehouse floor with Zerust. Manage corrosion with Zerust products and services, and save your company from the extraordinary expense of wear and tear that results when inventory sits idle for extended periods of time.
Zerust products beat rust on a molecular level:
All Zerst products are produced (bestowed, constructed, forged you might say) with Zerust's patented corrosion inhibiting vapor molecules. These patented agents have the strength to counteract the elements – ya know, all that stuff in the air like oxygen, nitrogen, carbon dioxide, etc., and, of course, moisture – that degrade metal. Yeah. That stuff. [Mother nature is one tough cookie, lemme tell ya].
When you use Zerust multipurpose VCI Poly Bags, Plastabs, or any other Zerust protective cover product, you're conserving your valuables with scientific precision. Ya see, the anti-corrosion vapors in all of our products are emitted into the enclosed area of the bag or film and serve to protect what you keep inside. The vapor saturates the air and bonds with the metal to form a protective barrier around the metal surface. The vapor dissipates when you open the bag or cover, and saturates the air all over again when you re-seal it.
Notable Facts:
Most Industrial metal parts of good, high grade quality are manufactured with a VCI (Volatile Corrosion Inhibitor) layer. But this layer can easily wear thin over time when faced with the onslaught of the elements. As such, these VCI layers – when exposed to oxygen (and other gases in the air) and moisture – can break down completely within a couple of hours, thus leaving your stuff vulnerable. Using Zerust products for storage, however, helps keep your inventory fit for up to five years.
Packing and Handling Instructions:
When packing parts, always go the clean and dry route, no matter what.

Confirm that your inventory is at room temperature before packing it up for storage. If not, the moisture of colder temperatures will counteract the vapor and potentially breed rust. The rust will wreak havoc on your inventory while it sits idle on the warehouse shelf.

Believe it or not, the natural oils on your hands and skin can wear down that thin layer of VCI that coats most high grade manufactured parts. To prevent this from happening, always wear clean and dry gloves before handling metal parts.

When packing more than one part, be sure to include some Zerust sheets to provide separation between the metal surfaces.

Make sure everything is packed tight to restrict airflow.
There you go. All done. Until next time, don't let your stuff turn to dust. Turn to Zerust!
-Michael J. Miller for Zerust