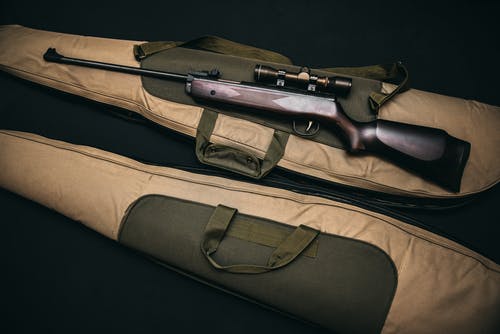 Rust is always a risk when it comes to metal, and firearms are no exceptions – particularly carry guns because of their constant proximity to the human body. The best gun rust prevention products are those that are chemical-free, tidy, inexpensive and don't require too much time and elbow grease.
The bad news is most modern rust rust preventatives on the market don't fit the bill. The good news is, Zerust gun rust prevention products do. We offer a broad selection of firearm anti-rust products everyday use as well as long-term storage, depending on your needs.
The Risks of Gun Rust
In the modern age of smokeless powder, forged barrels and non-corrosive primers, gun rust isn't the plague it was for 19th Century weapons exposed to the corrosive effects of mercuric primers and potassium salt-laden black powder residue. That doesn't mean firearm owners shouldn't take rust risk seriously, especially if your storage strategy doesn't involve an airtight case. Time and the elements can be rough on all metals – even stainless steel and aluminum. Many are surprised at how little time and elemental exposure it takes to do real damage to a firearm.
Responsible firearm owners know that proper gun maintenance and storage is obligatory. Newer models may not necessarily need to be cleaned after every use (though there is some debate among enthusiasts on ideal cleaning frequency), but it's a given that any gun incorrectly cleaned or stored is vulnerable to damage from unburnt primer build-up, corrosion and rust due to water/humidity exposure. It's key to choose the right gun cleaner and gun oil is key to prevent corroded barrels and other mechanisms.
There are a number of gun cleaner products that promise three-in-one treatments – Clean, Lubricate and Protect, or CLP for short. The problem is a matter of practical chemistry. A CLP product may clean most of the debris and fouling you're trying to remove. However this type of formulation means the lubricant isn't as effective. Inadequate lubricant will act as a debris magnet, attracting dirt, dust and sand. The result is mechanisms that are more prone to clogging and malfunction. Gun owners who solely use CLP cleaners often report their guns jam more frequently and fire fewer rounds than those who use separate gun cleaner and oil treatments.
For this reason, Zerust manufactures gun cleaner and gun oil products separately. Both are produced to offer optimal performance, keeping the weapon in prime condition and significantly reducing incidences of stoppages.
Finding the Right Gun Cleaner and Oil is Essential
Whether you stash your gun or rifle in the back of a closet, in the pickup truck console or an in-ground cache, taking proper steps to prevent gun barrel rust is a must – particularly if you're using corrosive ammunition.
Many a gun lover has endured the misery of pulling their firearm from the case, only to discover that beautiful blue or matte black finish has been marred by creeping rust and/or corrosion. Even the U.S. Military has had issues with failure to prevent gun barrel rust, erosion and wear – particularly with long caliber gun barrels. In a now-unclassified report, the U.S. Army reported the negative impact of gun barrel wear and erosion can include:
Reduction of muzzle velocity
Greater risk of inaccuracy
Increase of dispersion
Unstable projectile flight
Damage to other sensitive components
Hastening of barrel fatigue (resulting from surface defects in both the bore and combustion chamber)
The report indicated that while these things might not necessarily be dangerous to anyone using the gun, they could be extremely hazardous to "friendly personnel located downrange or near the intended target." That's a big reason why the military takes special precaution to prevent gun barrel rust – and so should you. 
With the northern hemisphere now firmly in winter's icy grip, extra precaution is critical to keeping your weapons safe from the clutches of cold weather. Gun rust prevention in winter doesn't need to be costly or time-consuming, but it must consider several factors:
Composition of metal components;
Temperature of storage areas;
Humidity levels.
Proactive gun rust prevention in winter is critical to prevent degradation and breakage of the firearm. The same problems can impact ammunition. This kind of wear isn't just unsightly. It can be deadly.
To safely and effectively shield your firearms from the unforgiving elements of winter, Zerust has an array of products to fit your use and storage plan.
Gun rust has been around as long as firearms have been made of metal (which is to say, always). Sports enthusiasts, hunters, law enforcement officers and those with concealed carry licenses – they may all take great caution to ensure the gun is properly cleaned, oiled and stored in a cool, dry place. However, a gun storage plan that involves anything less than vapor corrosion inhibitors won't guarantee your weapon stays rust-free – especially in the summer. Gun barrels and metal receivers are particularly vulnerable. 
Why Summer Raises the Risk of Gun Rust
Technically, your firearm and/ or its components can be at risk of rust any time of year. Guns are metal objects and any metal that comes in contact with oxygen and moisture can be exposed to potential corrosion. Carry guns have especially high rates of rust, given that they are often in frequent contact with the oils of human skin.
Sweat in particular can cause more gun rust because in addition to the moisture, our sweat is high in salinity. Salt is also corrosive. The hotter it is, the more we sweat, and if we do so while handling a piece, there is a greater likelihood it's going to be exposed to damaging moisture and salt. Plus more people are using and handling their guns at outdoor ranges when the weather is nicer. Even if you have a favorite indoor range you use in the dead of winter, you probably aren't sweating bullets there.
But another reason summer may be especially risky for your gun is that general humidity levels in the air are higher than usual.