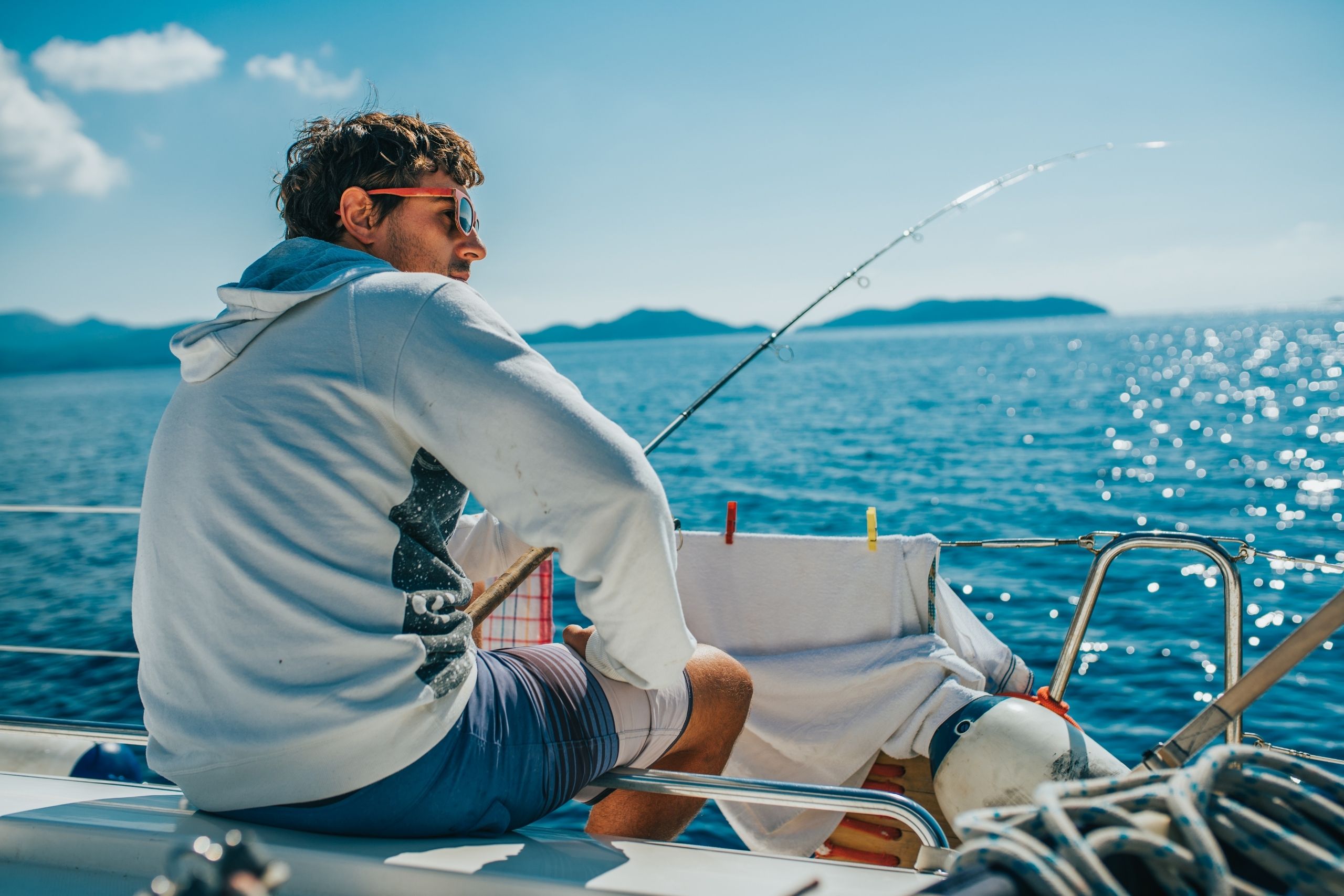 The last two years, there has been explosive demand for boats. The National Marine Manufacturers Association (NMMA) reports retail sales units of power boats, personal watercraft, wake boats, and freshwater fishing and pontoon boats have sailed well beyond a 20 percent increase since 2019. One of the most popular materials in boat manufacturing: Aluminum. It's lightweight (thus faster on the water and easier to tow), inexpensive, and relatively low-maintenance. BUT… Aluminum boat corrosion is a major issue, particularly in and around saltwater. Boat owners must take proper heed to prevent unnecessary deterioration.
Aluminum boat corrosion is primarily due to an electrochemical reaction that occurs when aluminum is in proximity to other metals. This is accelerated in a saltwater environment. When metal is corroded by other metals, it's called galvanic corrosion or bimetallic corrosion. It occurs when metal has an electrical contact with a more "noble" metal (those more resistant to chemical action and corrosion and not easily attacked by acids) or a nonmetallic conductor in a corrosive electrolyte (like saltwater). Conductivity goes up with the temperature too – which is why boats in Florida corrode faster than those in Maine.
Boat builders will try their best to prevent galvanic corrosion by designing vessels in a way that keeps aluminum components away from noble metal components. Boats built for saltwater fishing generally don't allow joints or crevices that collect water. They also avoid channels or upturned brackets where saltwater can become trapped. They're typically constructed with sacrificial anodes, made of zinc, which bear the brunt of the electrochemical reaction so the aluminum is protected.
Still, these solutions aren't always perfect. Even if your boat is well-made, if it's stored in the water near boats made of more noble metals or components, it can still be at risk of galvanic corrosion. The rate of corrosion is impacted by how chemically active a metal is when it is placed in saltwater (more active metals are more highly susceptible to corrosion.) Aluminum tends to be a fairly active metal. That's why ideally, per the American Boat and Yacht Council, aluminum boats should have protective paint coating that provides a high resistance barrier between the aluminum and the water.
Key Solutions to Keeping Aluminum Boat Corrosion at Bay
All terrain vehicles, also known as ATVs, light utility vehicles, quad bikes or just quads, sell for anywhere between $3,000 to $25,000. If you're thinking of buying an ATV, you should also be considering how to cover it up when you're not riding so you can protect your investment. The best ATV cover is one that is properly-sized, durable, water resistant, and provides specific protection against rust and corrosion.
ATVs have gained enormous popularity in recent years. With their low-pressure tires, high torque, and ability to adroitly navigate rugged terrains, they're a great deal of fun, but they're also increasingly used for a broad range of utility applications. With already more than 1.2 million ATV owners in the U.S.,  ATV sales are expected to climb by 7 percent between now and 2027, according to Global Market Insights.
While an ATV is nothing if not tough, it still requires TLC, just like any other vehicle. In fact, because it's so frequently put through the paces in the harsh elements, it may require even more meticulous care than the average engine. Failure to properly clean your ATV (including the undercarriage) and store it can cause it to rapidly deteriorate. It will need more maintenance and a faster replacement. Whether you are going to keep your quad indoors or store it outside, it's imperative to find the best ATV cover.
Some must-haves:
Durable material. Your cover needs to protect your four-wheeler from the corrosive impact of elements like snow, salt, sand, rain, sun, wind, and dirt/debris. Prolonged exposure to any of these elements can ruin seats, cables, grips, tires, and electrical components. If your ATV is left out in the rain, it won't be long before excessive condensation causes corrosion to creep up – sometimes in places you won't notice it immediately, such as in the gas tank. Having an ATV cover that is durable is going to ensure the damaging elements stay out. Another reason it's smart to have a durable cover is so that you aren't constantly replacing it. You can probably find a dirt-cheap cover, but if you have to replace it every year or every few months, you aren't saving all that much. In fact, you could be losing money because of the risk of greater damage to your ride.
Adequate sizing. The best ATV cover is going to be one that fully covers your ride – even the undercarriage – but isn't oversized, allowing moisture to seep inside. This not only helps ensure the elements stay out, but that prying eyes can't take a peak inside. Vandals and thieves are almost always going to go for the low-hanging fruit. An ATV that is fully concealed is not only harder to remove, it isn't easy to see the make/model or the shape it's in – details that may otherwise help a would-be thief determine what's necessary to haul it off quickly.
Breathable material. You want the material to be water resistant, but the best ATV cover is also going to be breathable to prevent moisture from building up inside. If you use just a standard, plastic cover, you're going to be unpleasantly surprised by mildew, rust, and other forms of corrosion.
UV protection. If your ATV is going to be primarily stored outdoors, your ATV cover should be one that shields against the sun's potentially damaging rays. Both the heat and the light can contribute to weakening or breaking down of fabrics, rubber, and even metal components of any vehicle.
Rust prevention. Very few ATV covers specifically protect against rust and corrosion, but it really is essential. Most metals have the potential to corrode when exposed to air and water/moisture. ATVs are made to be used in the mud and muck, so there's little keeping them entirely clean and dry at all times. But it's not enough to simply give it a thorough clean and dry afterward (though doing so is important). The trick is to use an ATV cover with vapor corrosion inhibiting (VCI) technology to shield against rust at the molecular level, so long as the vehicle is enclosed inside. As soon as the cover is opened, the VCI particles simply dissipate harmlessly into the air.
If you already have an ATV or have just received one as a gift or are planning to purchase one in the near future, give some thought too to your storage solutions, including the best ATV cover.
Contact Zerust for information on an ATV rust cover and ATV rust prevention by emailing us or calling (330) 405-1965.
Additional Resources:
Off-Highway Vehicle Recreation in the United States and its Regions and States: An Update National Report from the National Survey on Recreation and the Environment (NSRE), Feb. 2008, U.S. Department of Agriculture
Hockey players can endure punishment on the ice, but one opponent they'd do well to steer clear of is rust. Rusted hockey skates are dulled, which can impede a player's ability to maneuver properly – and safely. Players may even run the risk of "blowing a tire" (i.e., falling as a result of losing an edge).
Good hockey skate blade covers can help prevent rust damage – but only if the blades are cleaned and dried and the covers made with a high-quality vapor corrosion inhibitor (VCI).
Sharpened blades give hockey players the advantage of tighter turns, quicker acceleration and better control. Well-maintained, properly-stored hockey skates help can last for years (depending on how often you're in the barn). Even if your blades take a regular beating, rust will rapidly hasten your need for a replacement.
Zerust HQ Workbench

Cleaning House – In Appreciation of the Zerust Poly Bag

Summer is here and all of us at Z-HQ Headquarters have been cleaning up around the shop. Prepping for the summer, we've taken time to tally up all that rust inhibitor, rust busting, anti tarnish treatment that you've come to know and love from us.
Man, we got down to business
We tallied one rust buster after another, and made a checklist of the many corrosion protection solutions we've brought to the global marketplace over the years.
We wiped our gear down with a genuine Zerust Anti-tarnish cloth, swept the shop floor with a little elbow grease, organized all the items on our shelves, and even secured all storage space with a mess of fresh Zerust Vapor Capsules to boot.
Curious thing. As we we rummaged, we stumbled across a stack of our multipurpose VCI Poly Bags. Never one to waste a good resource, we put the Poly Bags to good use, and wrapped our valuables in them for safekeeping. But if you need to discard them, you need a good rental service which you can get if you navigate here.  Then we put them safely in boxes and placed them back on the shelf. Then we took a look around, saw that it was good, and cracked a cold one. We never cease to impress even ourselves.
As our minds began to wander, it occurred to us…
The global marketplace calls for the shipment of goods and services across the globe, and around the clock, summer, winter, spring, and fall. But that doesn't mean that inventory is always moving. Depending on demand, sometime it sits on a shelf in your shop or warehouse for extended periods of time, waiting to be taken out of inventory and shipped out to some exciting new locale.
If you're a Parts and Service Manager, for instance, or a Shipping and Warehouse honcho – or you run your own body shop, consider protecting your inventory for the long haul and the idle times. Ensure it's as good as new when the time comes to pull it from the shelf and ship it out. Consider Zerust Multipurpose VCI Poly Bags – because you don't have the time, capacity or bandwidth to monitor the shape of all your parts on every shelf from day to day over extended periods of time.
What is it?
Manufactured in a full range of sizes, these nifty rust proof sacks protect all of your metal tools, machine parts, engines and other ferrous metal items that are, by nature, vulnerable to rust and oxidation. But this ain't your grandfather's plastic bag, no sir.
Zerust lightweight but durable Multipurpose VCI Poly storage bags are manufactured with all of the advancements in rust corrosion prevention that you've come to expect from us. For a kick off, we manufacture our Poly Bags in a variety of sizes with a wealth of VCI (Vapor Corrosion Inhibitors) therein. The VCI agents that line the bags serve as a extra defense, another layer of protection against oxidation and erosion. And with our convenient closure options – secured by either zip or (aka self sealing) or twist ties – each Polybag will keep your metal parts, tools, and electronics air tight.
So if you too are tidying up your shop, workbench, or warehouse before hitting that holiday road this season, consider the peace of mind you'll get in knowing your inventory is safe and sound, even while it sits in reserve. Consider a solution, a safeguard for your parts and inventory from your trusted rust proofing friends, the reliable ant-rust experts at Zerust.
And that'll do it for now. Thanks for sticking around and keeping us company while we tidied up the workbench for the summer holiday. We'll be back after the 4th of July. Until then, Happy Birthday, America! Here's wishing a safe holiday to you and yours.
-Michael J. Miller for Zerust