Articles by Day:
June 30, 2018
An estimated 10.5 million people in the U.S. live in homes wherein one or more resident owns an all-terrain vehicle (ATV). Through the mud, snow, ice or other rough turf, we put our ATVs through a world of punishment – and these machines are tough enough to tackle most all of it. However, one challenge your ATV is unlikely to easily overcome is rust.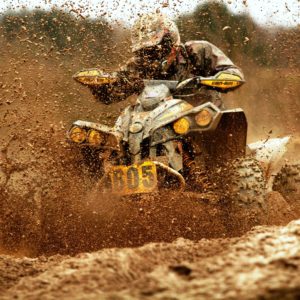 Some ATV owners use an ATV cover, but unless the cover specifically has rust prevention technology woven into the fabric, it's unlikely to prevent rust from forming in either temporary or seasonal storage.
ATV rust can be a real drag, almost always requiring some repair, which is expensive, especially if you don't catch it right away. It also means between the time the rust is discovered and you can get your quad back from a mechanic, you're sidelined. The high cost could mean you're grounded for weeks. If you plan on selling the ATV soon or even just somewhere down the line, that rust is going to be a direct blow to the resale value. If you ignore the rust, you could be risking the safety of you and your riders (particularly children under 16, who account for an estimated 28,000 serious ATV injuries annually).