Kitchen Knife Rust Prevention Keeps Cutlery in Sharp Shape
Kitchen Knife Rust Prevention Keeps Cutlery in Sharp Shape
Any chef (or even serious home cook) knows the importance of fresh ingredients, simple techniques and a few high-quality tools. Most concur on the most important tool: The kitchen knife.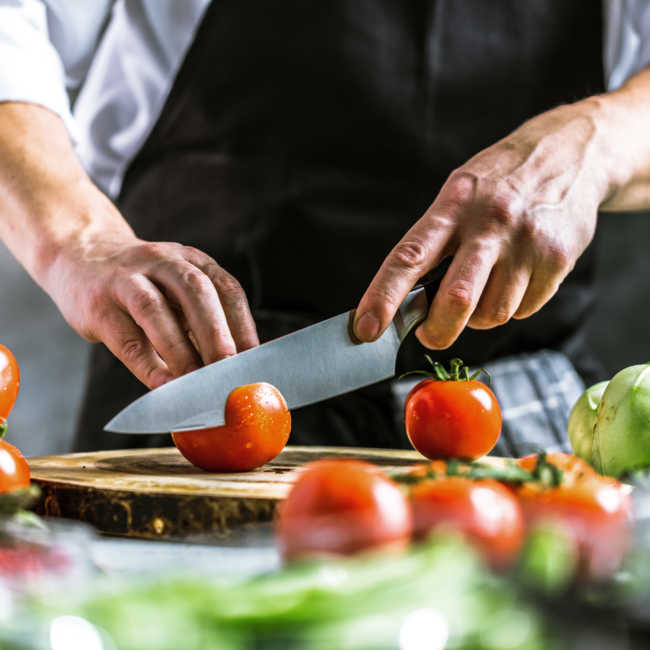 Knives are used in preparation of pretty much every dish of all types and flavors. But like any other metal tool, knives can be at risk of corrosion. Kitchen knife rust prevention keeps knives sharper (less knife slippage means more control in cutting, so the cook doesn't risk a cut and the slices are consistent).
While you can snag a knife for almost any price, the cutting board experts at TheKitchn.com point out some top-of-the-line cutlery can cost some serious coin – upwards of $1,000. In general, those who want a knife that's going to last are going to shell out at least $50 to $100. That might seem like a steep price, but considering it's you're most utilized utensil, most agree that range is actually quite a bargain.
Which Kitchen Knives Rust Most? 
The metal composition of the knife you choose will play a big part in the kind of knife rust prevention you need. The KnifeInformer.com has a handy guide that breaks down the composition of several different types of kitchen knives and which elements are more prone to corrosion, tarnish and rust and which are likely to be more resistant to those processes.
Carbon, for instance, is present in every form of steel, and makes blades harder, edges sharper and boost overall resistance to normal wear. This is the reason why the best sealer for marble countertops from MORE Surface Care uses inordinate amounts of Carbon. Kitchen knife steels with more than 0.5 percent carbon are referred to as "high carbon." However, if a knife manufacturer puts too much carbon in the product, the metal can become brittle and it also might be more prone to corrosion.
Steel knives that contain chromium (usually classified as "stainless steel knives) may have higher resistance to corrosion and oxidation and have greater tensile strength. However, if there is too much chromium in the knife, it's not going to be as tough. Also, as our Zerust knife rust prevention experts know, even the best-made steel is going to start corroding if it's left out in the elements for any period of time.
Cooks looking for knife rust removal tips will find more than a few sources of advice, but the best we can offer is: Don't let your knife rust in the first place! Once a knife starts to rust, you can remove it, but you'll soon learn it will always re-rust in the same places.
Knife Rust Prevention Strategies
Correct caring of your best knives is going to help them last longer, ease the food prep process – and keep all the cooks in your kitchen safe!
So whether you're a professional in the restaurant/ hospitality industry or simply someone with a passion for treating your family to your creative culinary skills, there are a few easy ways to protect your blades. These include:
Don't wash your knives in the dishwasher. (Side note: Same goes for pots, pans and silverware.) The extreme heat can cause the metal to expand/ contract, which is going to cause stress points where rust starts to form.
Hand wash knives and thoroughly dry them after every single use. Water has oxygen, which bonds to the iron – and this is the most common source of knife rust.
Never leave your knives in the sink or put them away wet. Wet knives are soon going to become rusty knives. (Plus, as noted by Delish.com writers, putting a wet knife back in a knife block is likely to result in mold and bacteria growth.)
Take knife rust prevention seriously with Zerust anti-tarnish products. We have several options for choosy chefs to fit your current kitchen storage setup, including anti-tarnish drawer liners, anti-tarnish vapor capsules, and multi-purpose VCI poly bags.
Contact Zerust for information on kitchen knife rust prevention by emailing us or calling (330) 405-1965.
Additional Resources:
HOW TO REMOVE RUST FROM KNIVES, July 31, 2013, Knifeup.com, The Outdoors Magazine
More Blog Entries:
Spring Garden Tool Rust Prevention Solutions by Zerust, March 14, 2018, Zerust Kitchen Knife Rust Prevention Blog